¿Cómo afecta la nueva realidad al Punto de Venta? ¿Cómo influye internet en la compra en la tienda física? ¿Es la omnicalidad una oportunidad de venta? ¿Qué es el drive to store y cómo utilizarlo en mi estrategia de marketing? ¿Es necesario contar con asesoría especializada en estos momentos? Si tú también te estás haciendo todas estas preguntas, sigue leyendo, ¡esto te interesará!
No es un secreto para nadie que a consecuencia del parón económico por el COVID-19 vienen tiempos difíciles. Así como nos unimos para frenar el contagio quedándonos en casa, debemos aceptar la responsabilidad de reactivar la economía.
¿Sabías que el sector comercio juega un papel protagonista en esta reactivación? Ya que supone el 13% de la economía española y es el mayor empleador con un 17% del total de afiliación a la Seguridad Social. Son datos recogidos en el informe generado por el Departamento de Economía de CEOE.
Compra Online vs compra Offline
El mundo se ha paralizado durante los últimos meses, pero no los hábitos de los consumidores. Estos han seguido evolucionando, y, en consecuencia, han ido aumentando su presencia en diferentes canales online. Este incremento, es un factor para tener en cuenta en temas de comercio, sin embargo, el estudio elaborado por BBVA Research (1) en 2018 indicaba que las compras realizadas con tarjeta en las tiendas físicas eran 4 veces superiores a las de Internet. No hay razón para pensar que en unos meses esta realidad se invirtiera y designar todos los esfuerzos al comercio electrónico.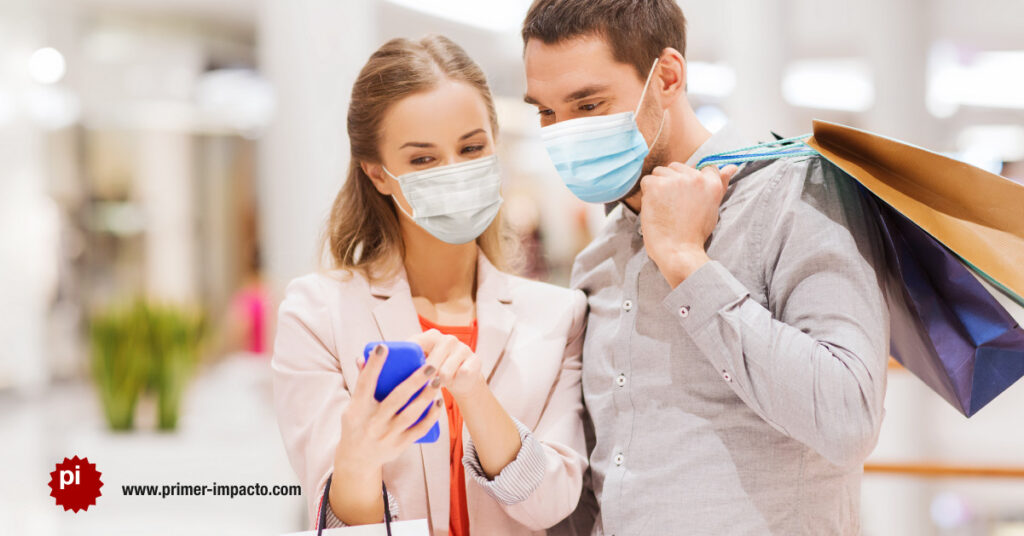 Cómo influye internet en la compra en la tienda física
Obtener información sobre el producto o servicio.
-Según el Informe Mobile en España de la consultora digital Ditrendia (2), el 73% usan el móvil antes de acudir a la tienda, o incluso estando en ella, para conocer las características del producto.
Comparar precios en tiempo real, incluso cuando ya estamos en la tienda física.
-El informe El futuro de la aceptación de pagos (3), de Universal Pay señala que el 50,6% compara precios o características por Internet, con tendencia al alza.
Consultar opiniones a la hora de comprar.
-La Encuesta realizada por la consultora PW (4) indica que un 37% ha comprado partiendo de recomendaciones de terceros en Redes Sociales.
Si consideramos estos datos, no hay duda alguna de que el móvil acompaña en la toma de decisiones del consumidor. Esto influye tanto a las grandes PYMES como al comercio de proximidad. ¿Entonces? Es responsabilidad del comercio adaptarse para dar respuesta a este nuevo modelo de consumo. Las marcas deben poner foco en las acciones en la tienda física como motor para impulsar las ventas, pero sin dejar de lado la evolución del canal online y su papel influyente en el proceso de compra del consumidor actual.
La omnicalidad, una oportunidad de venta
Son muchos los informes que arrojan data contundente para validar esta influencia y que abren el camino al diseño de estrategias combinadas entre ambos canales. La omnicalidad es una de las claves para aprovechar la influencia de internet en el proceso de decisión de compra, ya que, si la tienda física y la información virtual se convierten en lazos comunicantes, facilitamos la toma de decisión del consumidor. No confundamos esto, el comerciante no ofrece varias vías de compra, sino que establece vínculos entre ellas para mejorar la experiencia del consumidor.
Drive to Store
Las tiendas físicas son las grandes protagonistas de las compras, por ello las estrategias de marketing Drive to Store son fundamentales.
Drive to Store es una táctica de marketing digital que se emplea para conseguir ventas en las tiendas físicas. Es ya considerado una estrategia imprescindible en un plan de marketing. Su práctica logra afinidad entre todas las acciones de marketing (tanto online como offline), potencia la experiencia del consumidor y maximiza las ventas.
Algunas de las acciones recomendadas para este tipo de planes son:
Crear campañas digitales ofreciendo un descuento u oferta especial en las tiendas físicas.
Geolocalizar campañas de anuncios en un radio cercano a los puntos de venta.
Activar las extensiones de ubicación en tus campañas digitales para que los consumidores tengan los datos de contacto y localización de forma que les sea fácil acercarse a finalizar la compra.
Cuál es el error más frecuente en la ejecución de estrategias Drive to Store
Un plan de marketing que incluya estrategia Drive to Store, debe tener en cuenta que no vale de nada hacer esfuerzos para dirigir las compras a la tienda sin tener bien cubierta la experiencia del consumidor allí.
Las acciones en el punto de venta son el broche de cierre del plan y es un error común minimizarlo o ignorarlo, dejando todo en manos del consumidor pensando que la información dada en línea fue suficiente para concretar la compra.
Cuando hablamos de la experiencia de compra es clave entender al consumidor y su proceso una vez llega al punto de venta, todo lo que garantice su seguridad es particularmente relevante en la nueva normalidad:
Cumplir con las normas sanitarias teniendo un punto de venta limpio y desinfectado.
Proporcionar el equipo de protección individual necesario.
Brindar facilidades para mantener la distancia de seguridad.
Acceso simple a la información de la marca para minimizar el espacio en la tienda.
Asesoramiento claro que permita disminuir la ansiedad al momento de concretar la compra.
Conclusión
Estamos viviendo una etapa de inflexión clave, donde únicamente los comercios que entiendan el nuevo contexto de distanciamiento social e higiene, y que integren las estrategias de marketing adecuadas, no sólo conseguirán superar los obstáculos, sino que saldrán reforzadas.
Contar con asesoría especializada en estos momentos para asegurarte de enfrentar la nueva realidad de la mejor forma, ayudar activamente al despegue de la economía y mantenerte alineado a tus objetivos, es ideal. En Primer Impacto nos ponemos en tu lugar, para brindarte soluciones a la medida de tus necesidades. Como empresa especializada en el Punto de Venta, trabajamos cuidando cada detalle y desarrollando a las personas para hacer crecer el mundo. Siempre avalados por un equipo con más 15 años de experiencia y con una humanidad incalculable. ¿Sabías que hemos desarrollado un protocolo de Visita Limpia para garantizar la seguridad de nuestros clientes y trabajadores? Si necesitas hacer frente a la nueva realidad, estamos a tu lado, escríbenos solicitando asesoramiento.

(1) https://www.bbva.com/es/el-comercio-electronico-gana-terreno-al-tradicional-en-espana-supone-el-20-del-gasto/
(2) https://blog.hostalia.com/wp-content/uploads/2019/10/2019-mobile-espana-mundo-ditrendia-informe-blog-hostalia-hosting.pdf
(3) https://universalpay.es/wp-content/uploads/A4_elfuturodelospagos_2019_web.pdf
(4) https://www.puromarketing.com/76/19018/recomendaciones-redes-sociales-factor-clave-compras-online.html